The CGI Estate Collection Serie 375 horizontal rolling window is available in very large sizes up to 111″ x 76″ (58.5 SQF) in two and three panel configurations and with very high design pressures as high as +120 /-150 PSF.   Each operating sash is manufactured with a pair of patented stainless steel ball bearing supported quad rollers that ride on a nylon track providing a consistent and durable window operation.
PRODUCT FEATURES
Extruded screen frame with Super View screen with fiberglass mesh (retaining clips not required)
Extruded snap-on glazing beads
Stainless steel assembly screws
Double and triple weatherstripping
1/2" exterior flange frame
2 and 3 panel configurations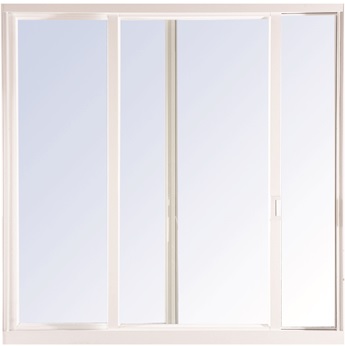 Glass Types
5/16" Laminated
7/16" Laminated
13/16" Insulated Laminated
Glass Coatings
Energy Efficient LoE Coatings
Notes:
Lo E coatings exhibit certain color characteristics depending on viewing angles, reflected light and time of day. For example, Cardinal LoE 366 exhibits a greenish hue. When Clear glass is coupled with a LoE 366 coating, during certain times of the day the reflected color can appear green from the outside. This LoE 366 coating offers an excellent combination of thermal performance, visible light transmittance, and value. 
When heat strengthened glass is used, roller wave distortion is an inherent possibility.
Standard Hardware
CGI egress lock
Patented quad roller system
Optional Items
18 PSF waterbar adapter
Uneven size vent windows
Concealed aluminum reinforcing
Clipless mullions
Extruded double applied 1" colonial muntins (in standard or custom grids) with Ogee glazing beads only (Not applicable with insulated glass)
Muntin grids inside insulated glass
Small missile impact resistant option
CONTACT US
Pleas give us a CALL:  +1 (305) 431.5533 or